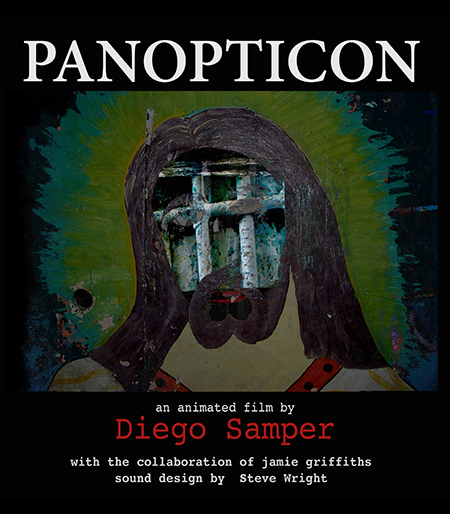 Una película de / a film by
DIEGO SAMPER
Con la colaboración de / with the collaboration of Jamie Griffiths
Diseño de sonido de / sound design by Steve Wright
Oficial selection Vancouver Latin American Film Festival
Honorary Mention Bogota International Film Festival
Oficial selection Globians Doc Fest Berlin
Dirección y producción/Direction and production: Diego Samper
Fotografía y manipulación de imagen/photography & image manipulation: Diego Samper

Edición y diseño de animación/editor & animation design: Jamie Griffiths-Primal Divine Productions & Diego Samper

Música original y diseño de sonido/composer/sound design & audio mix: Steve Wright
Música adicional/additional music: Giorgio Magnanensi, Silvia Mandolini, Serena Eades & The Rakish Angles. máquinas metafóricas/metaphorical machines' sounds: Geoffrey Smedley.
Voces/vocals by Maria Samper & Marlene Samper

Consultor de tecnología digital & supervisión de post producción/digital technology consultant & post production supervisor: Werner Dieter Thomas

Colombia/Canada, 2010. 30 min
Text concerning the Panopticon
Esta película animada, onírica y surrealista, ha sido creada a partir de las fotografías realizadas por Diego Samper en 2003, días después que una prisión colombiana fuera desocupada tras 111 años de uso continuo, para ser restaurada y convertida en centro cultural. Construída en la ciudad colombiana de Ibagué para contener prisioneros políticos, su diseño arquitectónico esta basado en el concepto llamado Panóptico, una arquitectura para la vigilancia. La película revela un rico universo visual de arte en la prisión, y a través de éste, aspectos de la realidad social y política en Colombia. Pero mas allá de ello, es una reflección sobre el principio de libertad, y propone el concepto de Panóptico como una metáfora válida ante la pérdida global de libertad, en un planeta dominado por una tecnología de vigilancia en todos los niveles de la sociedad.
This dreamlike, surreal animated film was created from photographic images taken by Diego Samper in 2003, just a few days after a 111-year old Colombian prison was closed and emptied of its prisoners before a complete renovation was begun in order to house a new cultural centre. Built for political prisoners in the late nineteenth century in the Colombian town of Ibagué, the architecture was loosely based on an emerging British surveillance design called a Panopticon. The film journeys through a rich visual underworld of prisoner art and through it, reveals aspects of contemporary Colombian social and political realities. But beyond that, it reflects upon the principle of freedom, asking if perhaps the eighteenth century concept of the Panopticon has become a useful metaphor for the global loss of freedom itself, on a modern planet awash with technological surveillance at all levels of society.